Case Studies
Cold Spring Harbor Laboratory improves editorial efficiency and prepares to scale its submissions workflow
Cold Spring Harbor Laboratory (CSHL) is a biomedical research and education establishment, tracing its lineage all the way back to 1890. Today, the not-for-profit laboratory employs 1,100 people – including 600 scientists, students and technicians.
CSHL's challenge
Cold Spring Harbor Laboratory needed a fast, reliable interface to allow the publication of thousands of submissions, but flexible enough to satisfy the many challenging demands from its editorial teams for variations from a standard workflow.
The HighWire solution
Through implementing HighWire's BenchPress manuscript management and workflow application, CSHL had a solution that was designed to fit its unique workflow and adapt to the ever-changing needs of the academic community. Its best-in-class configuration enabled CSHL to build a system specific to its publishing program while giving the team flexibility to adjust to changes in editorial practice and peer review process.
We needed a fast, reliable and scalable system that used a streamlined approach that would allow for thousands of submissions. It was a natural fit for us to choose the flexibility of BenchPress as it was so well integrated with HighWire and our hosting services, which successfully tackled our business challenges and led to reduced costs and time saved.
Kevin-John Black, Product Lead for bioRxiv on behalf of Cold Spring Harbor Laboratory
Discover more
Download the full case study to discover more about how HighWire supported CSHL to improve user experience for authors, editors and reviewers.
Featured solution
HighWire Submissions – revolutionize manuscript and submission tracking.
Discover more about how HighWire supported Cold Spring Harbor Laboratory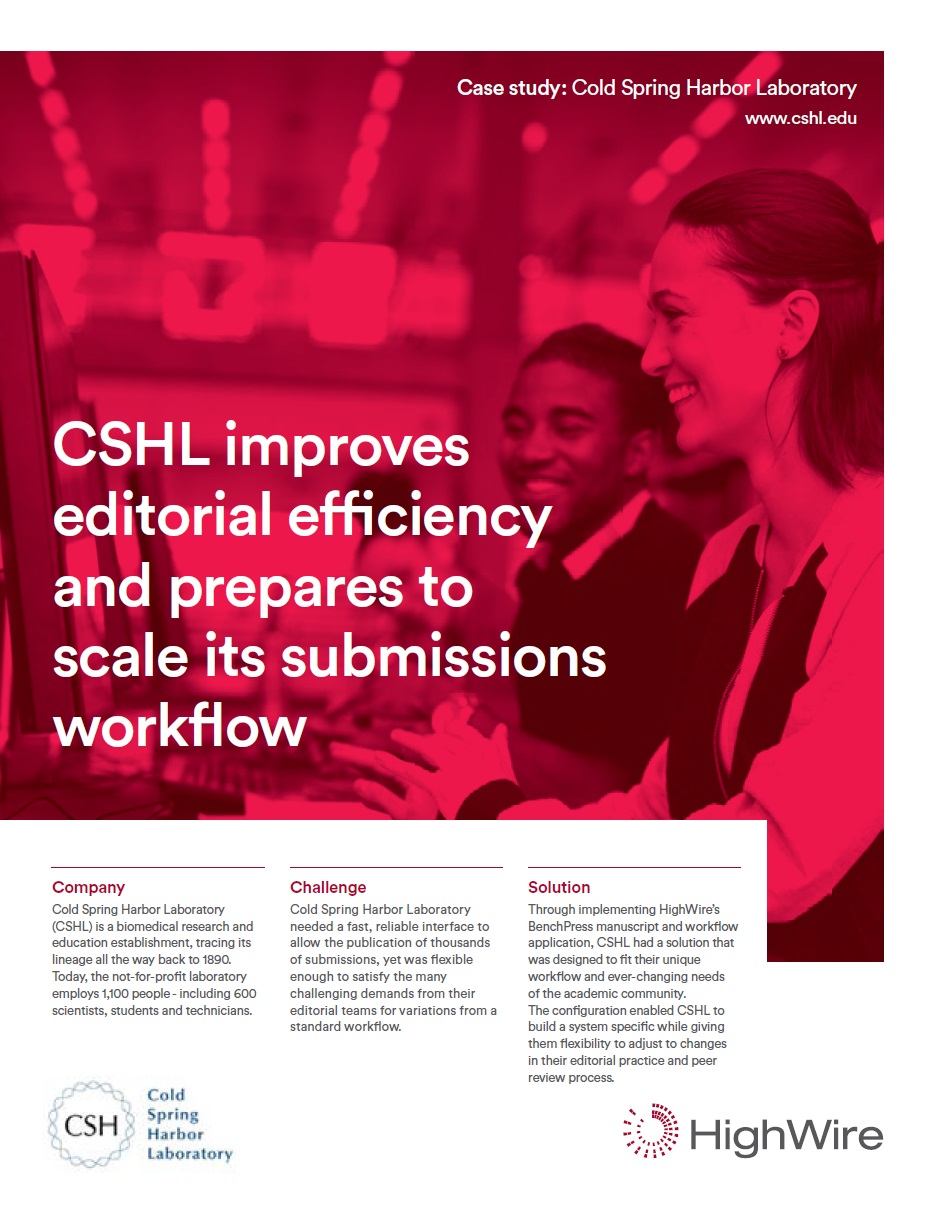 Download the full case study
Download now