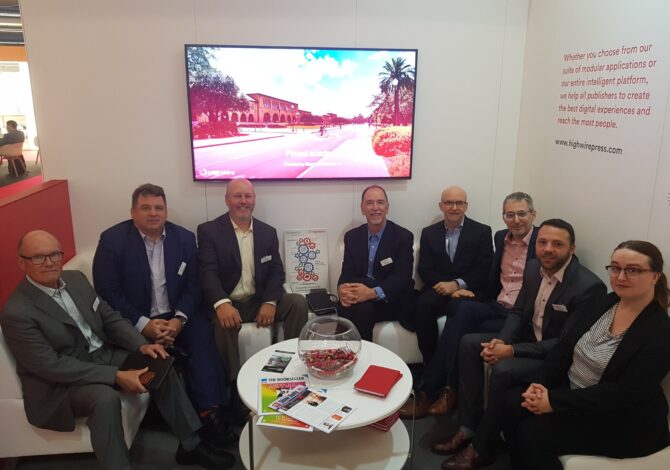 HighWire Team Spotlight: Looking Forward to 2020
2020 promises to be another big year for scholarly publishing, as the industry continues to prepare for the implementation of Plan S. Over the past year, we've grown our sales team substantially, with on-the-ground experience gained at publishers such as Pearson, Macmillan, Wiley, Elsevier, CCC, Outsell, Wolters Kluwer and OUP. We sat the team down to get their thoughts on what the next year might hold….
How long have you been with HighWire and why did you join?
Miles McNamee: I joined HighWire in November of 2018, on the recommendation of Darrell Gunter of STM. My primary reason for joining HighWire was the history of HighWire's success and John Sack's reputation, and the chance to "jump start" the sales engine. However, what convinced me were the people I met with during my interview, their passion and commitment to what the company was doing.
Matt Smith: I joined in September 2019. I was looking for a new challenge with a long-standing respected technology partner serving the publishing industry, where I could utilise my experience in serving the publishing community. What's more, the people are really great to work with!
Steve Rutberg: 4 months – I joined HighWire to broaden my publishing technology depth of sales experience. The product offerings and people here at HighWire are top notch and I am proud to associate myself with the organization.
Dimitris Anagnostopoulos: I've been with Highwire since November 2017. It always fascinated me how technology helped students, faculty and researchers access and consume information in ways never experienced before. The opportunity to contribute to the development and adoption of such technologies was just too tempting to forego.
What's the most exciting development you've seen in the industry in the past 18 months?
Miles McNamee: Elsevier's acquisition of Aries and Wiley's acquisition of Atypon. The top % commercial publishers are strengthening their position and will soon begin playing pac-man with smaller "change resistant" publishers within the next 3-5 years.
Steve Rutberg: The shift to mobile discovery and reading is growing by double digits. This is exciting and poses new challenges for technology providers and publishers alike.
Byron Russell: The development of AI-based tools as aids to discovery and more efficient research outputs. We're only at the beginning of another revolution in academic publishing, in which AI will radically change both the way researchers disseminate their work and the methods by which new research is discovered, particularly in the fields of STM but also – more importantly – across seemingly diverse but nonetheless connected fields. Robotics and ethics are examples, which have even found their way into mainstream entertainment media (think Humans and Ex Machina).
In terms of output, we are already seeing the first machine-authored books and articles. As an example, see the Summary of Research Outputs on Lithium-Ion Batteries by Springer's drolly-named "Beta Writer", which Springer claims is " the first machine-generated research book" – and is worth dipping into for its clear introduction on machine authoring. AI is also being used to produce plain-language abstracts, making the results of research accessible to a far wider audience. One of the companies HighWire is engaging with, SciencePOD, began by using manual adaptations of scientific articles. But increasingly, this editorial work is being carried out by machine, turning science into understandable and shareable digital stories which can be more readily understood not only by "citizen scientists", but – more importantly, from the researchers and publishers' point of view – by funding bodies and private enterprise.
Which publisher has impressed you most this year and why?
Miles McNamee: BMJ and CSHL are the most forward-thinking clients within our customer base, with great examples being CSHL's launch of medRXiv and evolution of bioRXiv, and BMJ's focus on our new joint innovation lab.
Which technology provider(s) should we keep a close eye on in 2020 and why?
Byron Russell: The other area in which AI can support research is in discovery via semantic relationships. More than 2.4 million research articles and many more complex technical documents are published each year; with such a surge in publishing, scholars are increasingly unaware of developments within their own field, let alone the rest of academia. Yet, more than ever, academics need to have a grasp not only of what is happening in their specialist field, but in other areas which impact on their own. I mentioned robotics and ethics, but of course there are literally thousands of others, in that no single subject, no matter how obscure, is potentially untouched by research elsewhere. One of the technology providers we're working with at the forefront of building the "neural networks" which aid the cross-fertilization of discovery is Yewno. This innovative provider "leverages state-of-the-art Computational Linguistics, Network Theory, Machine Learning, as well as methods from Artificial Intelligence" to draw conclusions and build relationships between masses of data points in order to group together related concepts. We can build the service into our clients' hosting platforms, thereby enabling them to make their content more discoverable in ways that are way beyond the reach of traditional search tools.
Based on the fact HighWire works closely with a broad spectrum of publishers, each with their own strategies, what primary piece of advice would you offer publishers for 2020?
Miles McNamee: I think the biggest threat in the long-term is the reality of publishers' resistance to change. Open Access penetration is beginning to surpass 20% of our clients' subscription revenue; in short, their cheese is moving and they are not searching for new cheese. This really worries me…
Steve Rutberg: Diversify your offerings and look to millenials for direction, trends, and growth. There are numerous interesting studies and articles that outline the impact millennials are having on our workforce and technology.
Dimitris Anagnostopoulos: Always listen to your users' feedback and needs, no matter how foreign to scholarly publishing these might sound. They know better what they need and how!
Matt Smith: It may be stating the obvious but find ways to communicate regularly with your ultimate customer, the researcher. Their behaviours will dictate how the libraries and research office interact with you. It's easy to be guilty of making assumptions about what the end user wants based on past experience and assuming they are a homogenous group. Spend a day walking in their shoes. I would also apply that advice internally. A recent post on the Scholarly Kitchen (https://scholarlykitchen.sspnet.org/2020/01/09/guest-post-sales-vs-editorial-the-silo-culture-in-academic-publishing/) referred to the siloed nature of publishers and the competing interests that can restrict growth. I've experienced exactly this working within publishers, often finding that the books and journals businesses serving the same subject communities are completely unaware of the technology initiatives of their counterparts in the same organization. Find ways to communicate and involve staff members lower down on the career ladder. Often the views of the person with most client contact are not heard in strategy meetings.
What guidance would you offer to those just embarking on a career in scholarly publishing?
Dimitris Anagnostopoulos: Listen, learn and don't be afraid to think out of the box and voice these ideas. The need for innovation never stops and demands our input.
Matt Smith: Based on my own experience, I would say don't specialize too early on. Expose yourself to a broad spectrum of knowledge and job roles. Be prepared to take what appear to be sideways career moves as every role you take will contribute to your knowledge base and is likely to be useful later on; this will build your credibility with colleagues and clients. Attend conferences where possible as the networking and serendipitous discoveries are often just as fruitful as the formal presentations and can't be replicated virtually.
Miles McNamee: In the current market, a long-term commitment to a top 5 commercial publisher (i.e. Elsevier, Wiley, Springer Nature, OUP, CUP) will provide a great learning ground, particularly as small and mid-sized academic societies shift their business models in a fast-evolving industry.
Steve Rutberg: Go to law school 🙂
Latest news and blog articles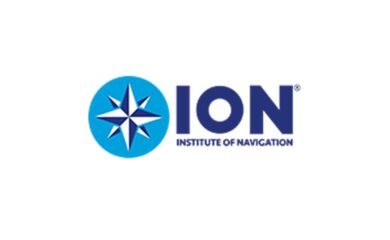 News
22.10.2021
The Institute of Navigation selects HighWire for Hosting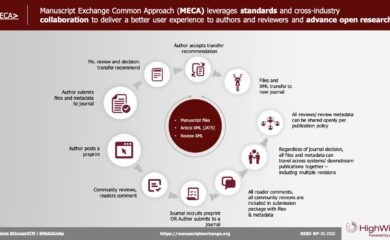 News
08.10.2021
What's next for MECA?