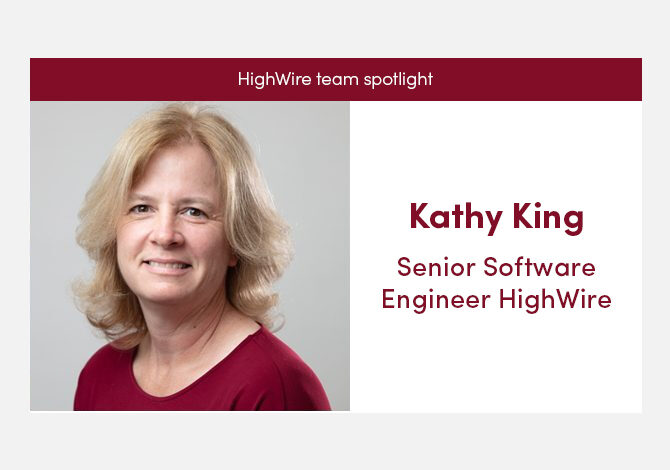 Insight
HighWire team spotlight with our Senior Software Engineer, Kathy King
The depth of expertise across the HighWire team continues to drive fresh innovation to support our world-class publishers.
In this month's spotlight we speak to Kathy who joined HighWire back in May 2000. Having previously worked for several different publishers, Kathy combines her first-hand knowledge of scholarly publishing with her technical specialism in peer review software development.
Q: Hi Kathy – tell us what you do at HighWire?
My job title is Senior Software Engineer. I am responsible for the day-to-day running of the BenchPress platform ensuring that systems are running properly and according to our rigid standards for performance and uptime. I work with developers and support staff to solve issues that arise and help iron out requirements for new features and custom requests. I handle the many aspects of back-end development.
Q: Tell us a little bit about your educational and professional background
I have a degree in Mathematics from the University of Maryland. I've been working in publishing almost exclusively (although I did spend a bit of time working for a power equipment company). I've worked as a typesetter, a production manager, peer review manager, and IT manager for several different publishers including the Biophysical Society, the American Society for Cell Biology, and Health Affairs. I first began working in the publishing industry before college where I worked some summer hours for Judd & Detweiler and Kiplinger Editors Press.
Q: What attracted you to join HighWire?
I joined HighWire in May of 2000 and having regularly attended HighWire's Publishers Meetings as a customer. Hearing about all the innovation going on was always a thrill. I had been working with and developing peer review systems for many years when I heard the presentation on the ideas HighWire had in mind for online peer review and manuscript tracking. This is what led me to inquire about opportunities at HighWire. Having attended many publisher meetings I was already acquainted with many people at HighWire so I had some insight into the amazing group working there. The level of commitment, passion, and personal investment consistently exhibited was inspiring and I wanted to be a part of it. Moving to CA was a nice bonus.
Q: What's the most challenging part of your job?
Juggling priorities. Things change fast and you have to be flexible and change lanes as needed.
Q: What's the most rewarding aspect of your job?
I love building new features, tools, and performance enhancements to help customers use the system more effectively and efficiently. It's rewarding to be able to provide solutions to complex problems that thrill the customer. I also enjoy being able to introduce automation to reduce development time and troubleshooting. The challenges are never-ending.
Q: Given you've spent the majority of your career in scholarly publishing, what is it you love about the industry?
Working in publishing has always felt like a way of helping people, especially when it comes to the scholarly publishing domain. Working for professional scientific organizations highlighted this even more for me. Having even a small part in facilitating the dissemination of developments in science and healthcare is gratifying. Working in the field of peer review software development is an eye-opening peek into the complex process of what it takes to get published. What authors, editors, and journal staff go through to publish content can be quite daunting, so being able to provide software solutions that make their work more efficient, while still rigorous, is a worthwhile challenge that never gets old.
Q: What would you say to other software engineers who are interested in a move into scholarly publishing technology?
There are many exciting opportunities in this area. No longer is it a field that just produces printed journals, far from it. The innovations in this area are growing rapidly and the ideas keep coming, utilizing cutting edge infrastructure and technology.
Q: Tell us something people might not know about HighWire
We work hard but also find time to have fun. I once even won a salsa-making contest.
Q: Sum up your HighWire career to date in one word!
Rewarding!
Want to hear more from the HighWire team? Check out these further team spotlights:
Whether you're passionate about publishing or technology, we're always looking to talk to bright, energetic people who want to make a difference. Find out more about HighWire careers here: https://www.highwirepress.com/about-us/careers/
Latest news and blog articles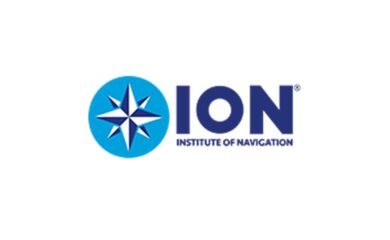 News
22.10.2021
The Institute of Navigation selects HighWire for Hosting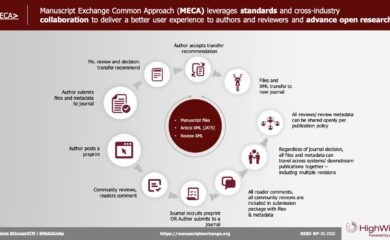 News
08.10.2021
What's next for MECA?