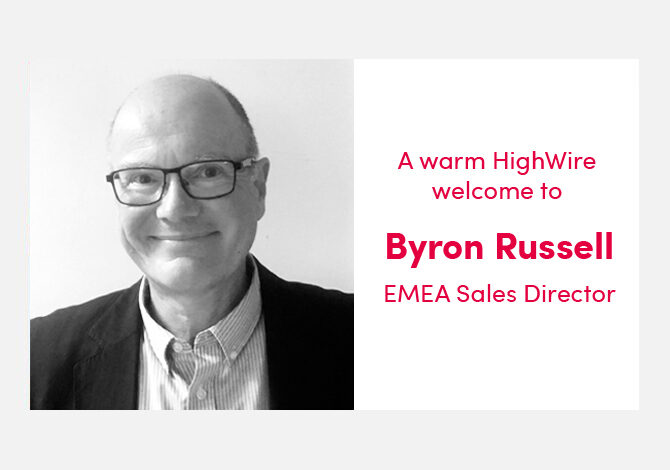 News
HighWire appoints publishing industry expert to lead EMEA customer sales
Byron Russell will strengthen customer-focused senior team, bringing experience from Ingenta, Pearson, Berlitz and Macmillan
SEPTEMBER 2 2019, LOS GATOS – Scholarly publishing technology provider, HighWire, today announced publishing veteran Byron Russell is joining the organization as EMEA Sales Director.
Bringing over 30 years' experience in the publishing industry, Byron started his career at Oxford University Press' ELT division in Italy. He has held senior positions in sales and marketing with Pearson, Berlitz and Macmillan Learning, focusing on future-facing digital content delivery systems.
Most recently Byron headed the aggregation platform Ingenta Connect and was responsible for launching Ingenta Open, a new referatory and hosting platform exclusively for open access content. He was responsible for driving the development of services, technology and business, and managed Account Management and Client Support teams based across the UK and US.
Alongside HighWire's UK-based teams, Byron will work closely with Miles McNamee, Vice President of Global Sales, and Matt Pedersen, who joined HighWire as Director of Relationship Management earlier this year. These appointments reflect the company's ongoing focus on customer-centricity while embedding deep industry knowledge and insight into the organization.
Commenting on his appointment, Byron said: "I'm very excited to join the HighWire team, to develop and support its renowned community of publishers in the EMEA region. HighWire has rich technical understanding of the scholarly publishing landscape, the strongest solutions on the market and a highly experienced team who forge great partnerships and continue to innovate to keep publishers at the cutting edge of digital."
Miles McNamee added: "It's a pleasure to welcome Byron, whose wealth of experience will make a huge impact to our customers and our business. Byron's appointment continues our approach to delivering industry-leading technology coupled with the best people in the sector. I'm proud of the customer and commercial team we've evolved this year and energized about the growing digital portfolio we're delivering for our longstanding and new customers."
You can connect with Byron on LinkedIn here.
###
Contact
Natalie Guest
HighWire Marketing
nguest@highwirepress.com
About HighWire
HighWire is an industry leading global provider of digital publishing tools and platform solutions  across all aspects of the publishing life cycle.
HighWire was born out of Stanford University in the early days of the web, shaped the early stages of digital scholarly publishing and is now celebrating its 25th year. This combination of deep domain publishing and academic expertise makes HighWire the technology partner of choice for leading global commercial and academic publishers.
HighWire is powered by MPS Limited, a leading global provider of content platforms and learning solutions.
For more information, please visit highwirepress.com and follow us on Twitter, LinkedIn and Facebook.
Latest news and blog articles
News
10.05.2021
Society for Neuroscience Renews Partnership with HighWire