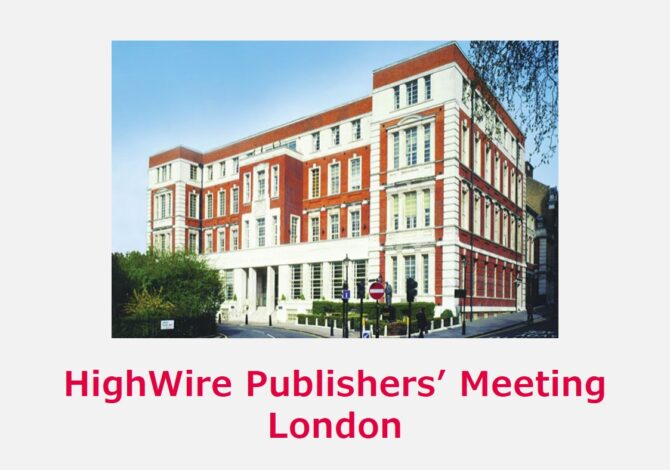 Register now
HighWire Publishers' Meeting – London
HighWire's popular Publishers' Meetings are returning in 2019 – register now
Every year at HighWire we like to bring our community together to share and discuss the latest developments in the world of scholarly publishing.
You can now register to attend our London event on Thursday June 13th by completing the registration form on this page.
Why attend
This two day event will provide you with the opportunity to hear from fellow publishers about their latest developments, learn more about HighWire's latest product developments and partner services, and collectively tackle some of the big challenges through interactive workshops.
Agenda
Strategic Planning & Thinking:
Panel: Plan S Workshop, Outcomes and Implementations: Four Publishers' Plans
Transformative Agreements: Can they be aggregated and group-negotiated?
Plan S and Learned Society Publishing Challenges (London)
New Products, Services, Partners:
Roadmap Update
Redesigned Alerting
Cenveo Partnership
Best Practices:
Addressing Declining Submissions
Best Practices for Article Transfers
Revising your Free Back Issues program
Standards & Industry Cooperative Efforts:
Implementing the Data Citation Standard (London)
Researchgate Update from the Coalition for Responsible Sharing
Breakouts/Special Interest Groups (SIG):
Vizor User Group
New Alerts Features in Depth
Self-Service Features Preview/Discussion
Partner Overview Presentations
BenchPress (the BenchPress session will be scheduled outside the meeting time slots to avoid conflicts)
Pricing
The price to attend the Publishers' Meeting is $299 (£225). If more than two people attend from the same organisation, the third person is free-of-charge.
If you'd like to attend the Publishers' Meeting, but can't make this date, we are also hosting a Publishers' Meeting in Washington on May 8th – 9th.
IET, London
Register now